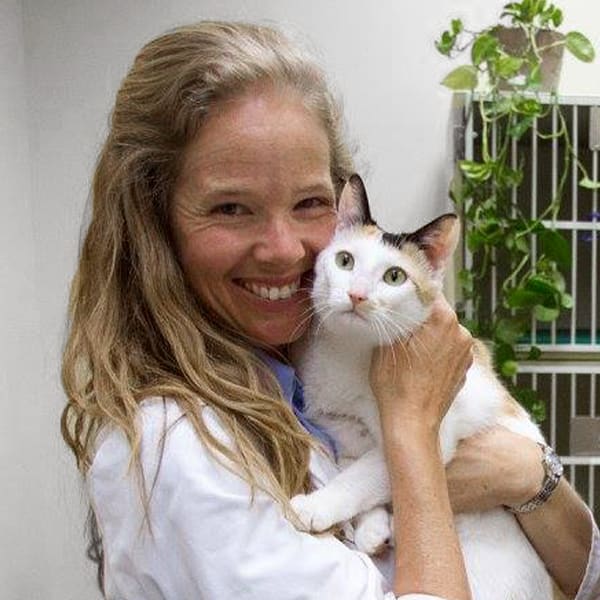 Dr. Brooke Kugler
Dr. Brooke Kugler always thought she wanted to be a vet and confirmed this after she spent a week as a teenager travelling around with her local veterinarian in rural Connecticut. After seeing sick ducks, pigs and cows in addition to dogs and cats, she was completely convinced veterinary medicine was the right path for her.
Dr. Kugler attended Bates College in Maine where she received a BS in Biochemistry and then the Royal Veterinary College in London, England. After graduating from vet school in 2001, she returned to the US and settled in Colorado where much of her family had migrated during her time in England. Dr. Kugler's ultimate love is for small animals (of all kinds!). She enjoys caring for animals throughout all life stages and loves getting to know both the pets and their families.
Dr. Kugler lives with her husband, three daughters, 3 cats: Daisy (named after the cows in England because she is black and white), Willow (because she has a big fluffy tail that looks like a Weeping Willow tree) and Boo (who loves to play peek-a-boo, so you never quite know where she is!), a bearded dragon, Didger (named after the didgeridoo instrument in Australia) and assorted fish. In her spare time she loves to be outside: skiing, hiking, camping, gardening and adventuring with her family in general. She is also busy in the Lafayette Community with school events, Chamber gatherings and other festival events. Her roots are firmly planted in Lafayette as she loves the small town feel, seeing friends around town, and the beautiful view of the mountains as she drives to work every day!